You've been seeing all summer bikes here and there and you have light, you fancy riding bike. Do you want to enter the world of two wheels or already have a driving license and motorcycle looking to get started? Let's see what you need to enjoy the dynamic balance safely, what types of motorcycles on the market and some tips that always come in handy.
The first is to have a driving license motorcycle, assume that you have it but if not, here are the different types of permits for you to be absolutely clear:
AM: mopeds two or three wheels and light quadri-cycles.

Minimum age fifteen and after the last amendment of the regulations, they can carry passengers even without the years 18 (previous minimum age to carry passenger).

A1: motorcycles with a maximum displacement of 125 cc, a maximum power of 11 kW and a power / weight of 0.1 kW / kg ratio.

Also motor tricycles with a maximum not exceeding 15 kW.

Minimum age 16 years.

With permission B with older than 3 years are driving the same with the A1 motorcycles (and scooters).

A2: motorcycles with a maximum power of 35 kW and a power / weight of 0.2 kW / kg that are not derived from a vehicle of more than double its power relationship.

Minimum age 18 years.

Must be overcome control knowledge and skills or have two years of experience with a test A1 and easier control.

A: Motorcycles and motor tricycles any power and displacement.

Minimum age 20 years, but up to 21 may not drive motor tricycles with a maximum power exceeding 15 kW.

They take two years old A2 permit.
It's time to choose bike, but there are so many that it is difficult right? As your bike experience  is little or no, let's review what suits you.
Types of motorcycles
There are a variety of types of motorcycles on the market, depending on your tastes, driving style and experience will choose one or the other, let 's look at the options:
Sports : The most passionate, for those with a spirit of racing and do not mind sacrificing comfort towards benefits.

They are unwieldy between urban traffic, fast stretches of curves and uncomfortable to travel.

Naked : Motorcycle without fairing are increasingly sports.

Balance between performance, price (there are exceptions), driveability and comfort.

They have aerodynamic protection so are not highly recommended for travel.

Otherwise they are very versatile and a good choice to start.

Trail : Motorcycles for mixed road and field, although most asphalt mounted tires that do not allow hardly enter a dirt track.

They are very comfortable, good traveling (easy to couple suitcases), easy to drive, fun in the city and less slower than it may appear in sections of curves.

Another good choice as a first bike.

Sport-Tourism: Motorcycles with fairing (upper dome and cowl) or full fairing seeking balance between comfort, travel and services in sections of curves.

There are some with high handle-bars.

Good choice for a little of everything.

Tourism: Large Motorcycle Fairings bulky domes, much equipment, engines and often carry large suitcases.

They are to travel, to little more and are not recommended as first bike because they are very heavy and expensive.

Custom : For lovers of chrome within the custom there are many subcategories.

Girls like the low seat, but are difficult to maneuver, ineffective in sections of curves and few benefits.

They are bikes to stroll leisurely pace and did not get much in the chaotic city traffic.

Supermoto : Motorcycles derived from field – road tires and suspension.

The former were handmade and is now well sold directly and there are subcategories.

Recommended low capacity because they are lightweight and easy to drive.

Not worth to travel and real natural environment are the lengths of curves, the tighter the better.

They may be an option as a first bike.

Scooters : There are many subcategories, by size (small, medium and GT) and its more or less sporty character.

Depending on your taste you can find one easily.

They are inexpensive (not great), very easy to drive and the automatic brake handles have high load capacity, cleaner than a motorcycle (greater aerodynamic protection) and very practical.

Highly recommended if you are looking for
Recommended Minimum Gears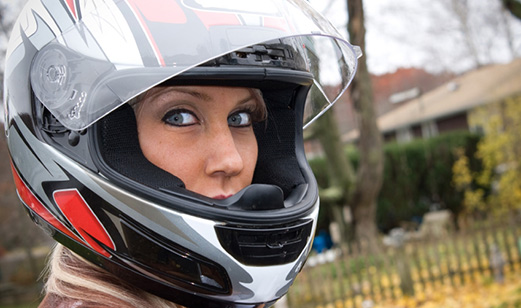 Having a driving license and the bike is not everything. Now it is the time to equip themselves to go, do not skimp on this because your physical integrity is at stake. With the bike should not be falling, but be prepared if the worst happens one day. It is advisable to ride a motorcycle with the helmet (choose your best motorcycle helmet), which is mandatory), gloves and jacket with protections. If you fall, you will try to reflexively lay hands on the ground to protect the rest of your body. Furthermore it advised to be waterproof and with two or three layers so you can use it throughout the year. It is better to spend a little more once at least three times and finally do the addition and see that it has left you much more expensive.
Otherwise, do not wear shorts, sandals, skirt, etc.
Basic Tips
All motorists without exception have ever thought they knew motorcycling, usually when the experience is still limited. And everyone has had a scare for believing they already knew. Be humble in your thoughts, you can take the bike seem easy and you have it under control, but we must control to unforeseen events.
Attend a driving course: This is true regardless of whether your experience and better the less time you take on a motorcycle. You will learn a lot and much safer.
The road is not a circuit: Enjoy your bike, but if you want to see what you are able, go into circuit, there you can do so safely and controlled manner
Drive defensively. Leave a wide margin of safety, read the state of asphalt (potholes, gravel, stains, puddles, roughness …) well and leads always thinking that the car in front can make it more unlikely that you can think of.
And finally and most importantly, enjoy the bike.
Source: Cyber Power Sports